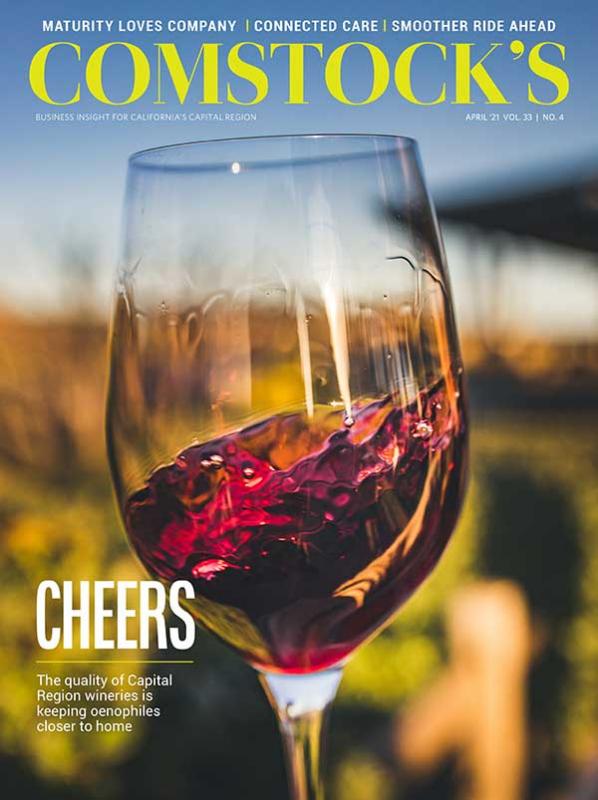 This story is part of our April 2021 issue. To subscribe, click here.
In most years, Ironstone Vineyards in Murphys hummed with energy and activity. During concert weekends at the vineyard's Ironstone Amphitheatre, where artists like Willie Nelson and John Fogerty have played, up to 5,000 people a day would come through the vineyard's tasting room. The winery's wine club members would arrive early for private, pre-concert parties inside the wine cave. Weddings, corporate events and holiday brunches crowded the calendar. Guests and groups toured the vineyard's lakes, lush gardens, wine caverns and mining museum; shopped at the jewelry store; and dined at Gold Leaf Bistro. The world's largest specimen of crystalline gold leaf, weighing 44 pounds, is on display in a vault in the tasting room.
Founded in 1989, Ironstone is owned by the Kautz family, fourth-generation growers, but the Ironstone empire started with the wine cave. "Before they did anything, they just started blasting into the side of the hill there," says Daniel Kushnir, director of sales and marketing. It took a crew of professional miners nearly a year to create the caverns, which are used for wine storage due to the consistent temperature. "Once the caves and the breezeway had been made, they saw what they had and said, 'Maybe we should do a little more.'"
That urge to do a little more has helped raise the game of wine regions throughout the Capital Region. No longer content to cower in the shadow of Napa, a handful of larger wineries like Ironstone, Helwig Winery in Plymouth and Michael David Winery in Lodi have upped the ante by providing an array of events, amenities, curated experiences and award-winning wines. With daytrip-worthy destinations anchoring wine regions like Shenandoah Valley in Amador and El Dorado counties, Fair Play in El Dorado County, Lodi, and Clarksburg, oenophiles no longer need to pay the higher prices and drive to Napa to get a world-class winery experience.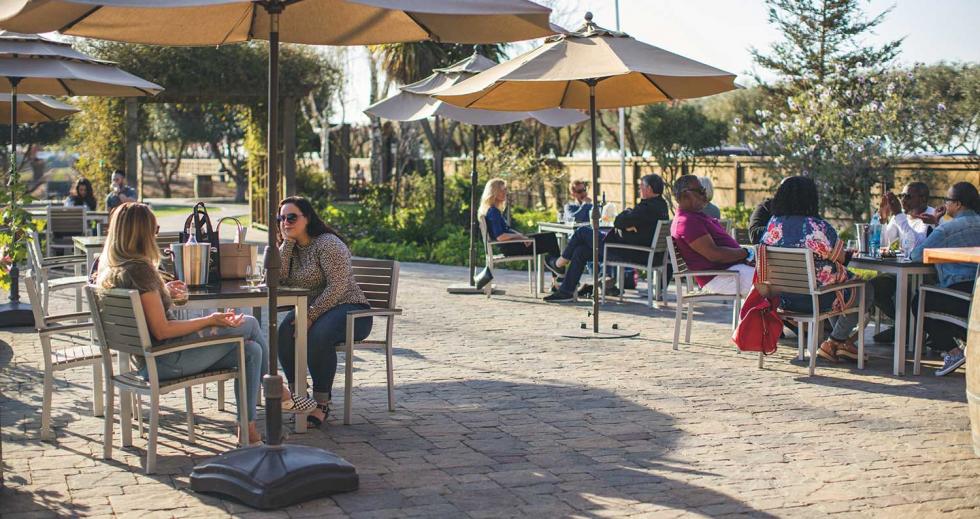 Although the events side of wineries suffered greatly during the coronavirus pandemic, online wine sales soared. In June 2020, a Sonoma State University Wine Business Institute report projected that the California wine industry would lose more than $4 billion due to the pandemic. However, extra space and on-site eateries gave larger wineries an advantage in meeting social distancing and requirements that food must be purchased. And with many of these wineries planning to restart parties and concerts in 2021 amid heightened consumer interest, local wine tourism and events businesses could come back stronger than ever.
It's About More Than Wine
In Amador County, the history of California winemaking has seeped into the soil. In the mid-1850s, European immigrants planted some of the state's oldest grapevines, some of which produce fruit to this day. Still, when Helwig founders Dave and Nancy Helwig first came to the region decades ago for wine tasting, there were only a handful of wineries. Today, Amador County has more than 40 wineries, with none perhaps more spectacular than Helwig, which opened in 2011.
Dave Helwig's interest in grape growing began with a small vineyard planted in his backyard. Today, Helwig grapes grow across 60 acres between four vineyards in two counties. As respected as the Amador County wine scene is in California, Helwig believes it can grow to become a real tourist destination. "I think we need more infrastructure in terms of hotels and restaurants and things like that," he says. "The wines are beginning to become better known, but we do need more infrastructure in terms of places for people to stay."
The crown jewel in the Helwig Winery empire is the sprawling and scenic property in Plymouth. Besides the tasting room, vineyards and panoramic views of the Shenandoah Valley, the property includes wine caves, olive orchards, a farm-to-table restaurant, a corporate events center, a 6,000-square-foot country estate and an outdoor concert venue. Pablo Cruise and Micky Dolenz played there in 2019, and although the pandemic ended concerts in 2020, the venue has booked acts such as Starship and Blood, Sweat & Tears for this summer.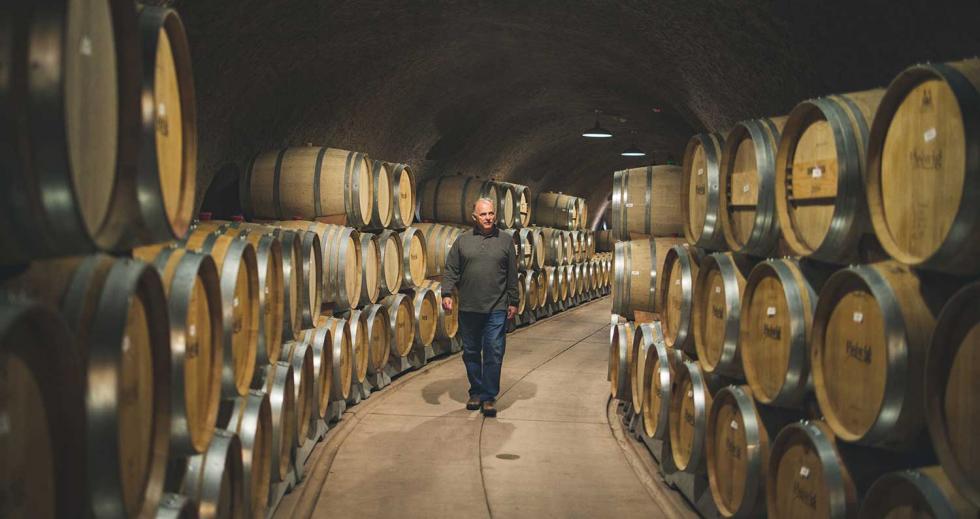 Despite the closures, cancellations and limits on tastings, its additional space and resources allowed Helwig Winery to navigate the pandemic better. "We have our kitchen that is open seven days a week, which allowed us to be able to stay open where others couldn't," says Kathleen Mahan, the winery's director of events and culinary services. "There's been lots of things by being so large that we've been able to keep our staff employed and keep wine flowing for the public."
Mahan believes the pandemic restrictions forced the winery to better curate experiences for its customers. "Being reservation-only really allows us to have that connection with the customer," she says. "Before, we were fortunate to have a larger tasting-room space, and it could be pretty wild and crazy in there. Now you're having that one-on-one experience, and I think that that really is going to be what guides us moving forward."
If the curated and personalized experiences at Helwig Winery sound like fine dining, then the setup at Old Sugar Mill in Clarksburg resembles an upscale buffet. Fourteen area wineries operate tasting rooms inside the enormous structures that formerly housed a beet sugar refinery, constructed in 1934. "We are like the mall of wineries," says Rachelle Wiggins, the wedding director at Old Sugar Mill, and the variety of events at the spacious and picturesque facility rival the variety of wineries.
Old Sugar Mill, which opened in 2005, is a popular spot for weddings, corporate events, bridal showers, birthday parties, family gatherings and live performances, including a Tower of Power concert in 2019. (One of those wineries, Bump City Wine Co., is co-owned by Roger Smith, the band's keyboardist.) "We can really capitalize on the fact that we have acres and acres of outdoor space that we can host events in," Wiggins says. "Typically, people are very drawn to our indoor spaces for our weddings, but we have outdoor spacing as well, and we think that we'll see more use of that."
Although it expects the events business to rally in 2021, Old Sugar Mill also wants to increase awareness about its wine and tastings. Wiggins says she is surprised by how many people outside the immediate Sacramento area don't know the Old Sugar Mill exists. "We have various marketing that we do for our weddings and events, but we'll be expanding our marketing for radio as well as print to get the word out for wine tasting," Wiggins says.
Working to Raise Awareness
At Sentivo Vineyards & Winery in Somerset, owner Daniela Devitt faces a similar problem. Its tasting room is a favorite among El Dorado County locals and wine lovers in Western Nevada, where Devitt estimates that 35 percent to 40 percent of Sentivo's wine club members reside. But awareness of Fair Play among Sacramento wine drinkers remains relatively low, she says. "In Nevada, especially Reno, Carson City, all of that, we are their Napa, and they've known about us for a long time," Devitt says. "We just need Sacramento to know we're here."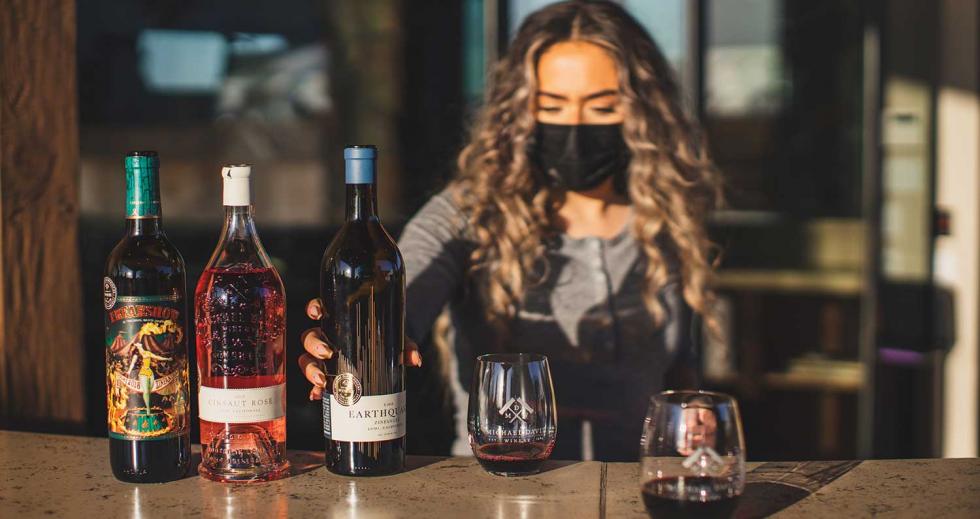 Devitt didn't even know about the Fair Play American Viticultural Area until she visited to taste wine in 2010. She and her family were so impressed by the beauty of the area, they soon purchased the 20-acre property in Somerset.
"It's what Napa was back in the '80s and the '90s," says Devitt of the Fair Play wine region. "Most of the time, when you come to Napa, you're not going to meet the families that own the winery and really get immersed in their winery experience and techniques." And many Napa area wineries now buy grapes from the Fair Play region. "We have a microclimate here that just lends itself to so many different varietals," she says.
Sentivo had its first harvest in 2011 and opened the tasting room about five years later. Today, the property includes 5 acres of petite sirah, syrah and pinot noir grapes, plus a high-ceilinged "urban rustic" tasting room; a firepit with seating for 16; a picnic area; and ample grounds and venue space for events. In contrast to the industrial aesthetic at Old Sugar Mill, Sentivo features more of a Tuscan-winery look.
Wise Villa Winery in Lincoln also emulates a Tuscan setting, although it appeared much humbler when the winery opened in 2011. What started as a tiny tasting bar has grown in the last decade to become a 13,000-square-foot Italian villa with sunset views of the vineyards and the Sacramento Valley.
During the pandemic, Wise Villa was able to put its copious outdoor space to use. The winery started offering wine walks, which included a discounted glass of wine and a meal and allowed diners to practice social distancing while wandering through the 35-acre vineyards.
Barring any COVID-related setbacks, the Placer County winery plans a full event schedule in 2021, including a 10th-anniversary party for its long-time wine club members. Other regular events at Wise Villa include a bimonthly wine blending dinner, a Hawaiian luau and the annual Lucy Grape Stomp, which honors a famous episode of "I Love Lucy."
Placer County may not have the name recognition of Napa or Sonoma, but the region boasts a rich history of grape-growing. "At one point in time," says Sarah Lemberg, Wise Villa's vice president of sales and marketing, "there were more grapes grown in the Sierra Foothills than Napa and Sonoma combined. We have this legacy." Wise Villa continued that legacy by winning the Golden State Winery of the Year award at the 2015 California State Fair, then took home 27 medals at the San Francisco Chronicle Wine Competition in 2019.
Grover Lee, whose background is in biochemistry, is the owner, founder and winemaker at Wise Villa, and he also lives on the property. His children and grandchildren also hold positions at the winery. "(Lee) comes to a family party every day," Lemberg says. "You're bound to run into at least three family members any day you're there."
In the Lodi American Viticultural Area, there is a strong link between the Phillips family heritage and the history of Lodi wine. Dave and Michael Phillips' great-great-grandparents started farming the Lodi soil in 1865, and their parents ran roadside fruit stands in the area for decades. Today, the fifth-generation farmers own Michael David Winery, and the sixth and seventh generations are already working the land.
"We were one of the few wineries in the county that (was) grandfathered in to have a restaurant and food service since we're still on agricultural land," says Dave Phillips. "It's pretty impossible to have a winery with a restaurant these days (in San Joaquin County), but that kind of sets us apart."
Michael David's restaurant, The Farm Cafe, and spacious gardens allowed the winery to thrive during the pandemic. However, Phillips also believes a key factor driving the popularity of Lodi wine is a value-to-quality ratio he calls the best in the industry. "We sell high-quality, 90-point-plus wines, and we can still offer them to people for affordable prices," he says. "I would say the average bottle of Lodi wine is around $20. You're not going to find that in Napa."
When the pandemic hit, Phillips feared he would have to lay off employees. But sales of Michael David brands off-site instead increased in 2020, which mirrored a larger trend, according to a report commissioned by the Wine Institute, an advocacy group for California's wine industry based in Sacramento.
Jon Moramarco of bw166, which provides research and advisory services for alcoholic beverage companies, found that the overall volume of U.S. wine purchased in 2020 increased slightly. However, consumer spending fell almost 10 percent due to a decrease in restaurant sales and on-site consumption. Last summer, Moramarco estimated the pandemic would cost the U.S. wine industry $5.94 billion.
"Some of the wineries that have more of their distribution at grocery stores are doing OK because the consumers are doing a lot of channel shifting," says Gladys Horiuchi, director of media relations at the Wine Institute. "They can't go to restaurants anymore, so they're buying their wine at grocery stores instead."
Ready for the Recovery
A similar dynamic emerged at Ironstone in Murphys, a town with more than two dozen tasting rooms, despite a population of about 2,000 people.
"A lot of people are out of jobs, so it doesn't feel great saying it, but the truth is that our wine sales, at least in terms of online and delivery and shipping, has exponentially grown," Kushnir says. He credits the uptick in sales in part to the area's large retirement community discovering modern ways to buy wine. "They weren't so accustomed to getting on their phone and downloading our app and ordering food for pickup or ordering wine for delivery," he says.
It doesn't hurt that the weather and atmospheric conditions of the Murphys area make it ideal for top-notch wine grapes. "We have something that Napa doesn't have, which is a natural air conditioner that is the Sierra foothills," Kushnir says. "We can have warm days, real cool nights and no humidity. We're not fighting against the mildew, mold, rot, things like that."
Wineries have suffered during the COVID-19 pandemic like most businesses, but wineries like Ironstone are potentially poised to lead the recovery. When the Ironstone Amphitheatre starts booking concerts again, thousands of tourists will flock to the area to spend money. "When we bring 6,500 people to a concert, everybody in town reaps the benefits of that," Kushnir says. "They're going to want to go eat before, maybe do a little shopping, a little tasting before the concert."
One can almost hear the hum of energy and activity again.
Correction: This story has been corrected to state that Helwig Winery's tasting room opened in 2011.
–
Stay up to date on business in the Capital Region: Subscribe to the Comstock's newsletter today.