When Leah Yadon saw a flier for the Sacramento Natural Food Co-Op Community Kitchen sessions at Wellspring Women's Center in Sacramento, she signed up immediately.
"I wanted to learn about how to cook healthy, because that's one of the things I'm really trying to incorporate into my life right now: knowing how to cook better with better ingredients," says the former state employee who is now on disability leave.
Food has always played a big part in her life, Yadon says, but no one ever taught her the basic building blocks of a healthy lifestyle. As a girl growing up in Rio Linda, she used to walk home from school to visit her Grandma Callie, a Southern cook who grew up during the Great Depression and equated food with love. In her late teens, she battled bulimia and overcame the eating disorder only to jump from diet to diet in an attempt to manage unhealthy food choices.
When Yadon was married and occasionally working two jobs, she enjoyed cooking for her husband. Now divorced, she struggles to cook just for one, seesawing between "What's the point?" and not wanting to waste food.
"Now, I want a healthy lifestyle," she says. "That means I need to be conscientious about eating healthy. I know I can't undo 30-something years of eating history overnight. But I want it for the right reasons."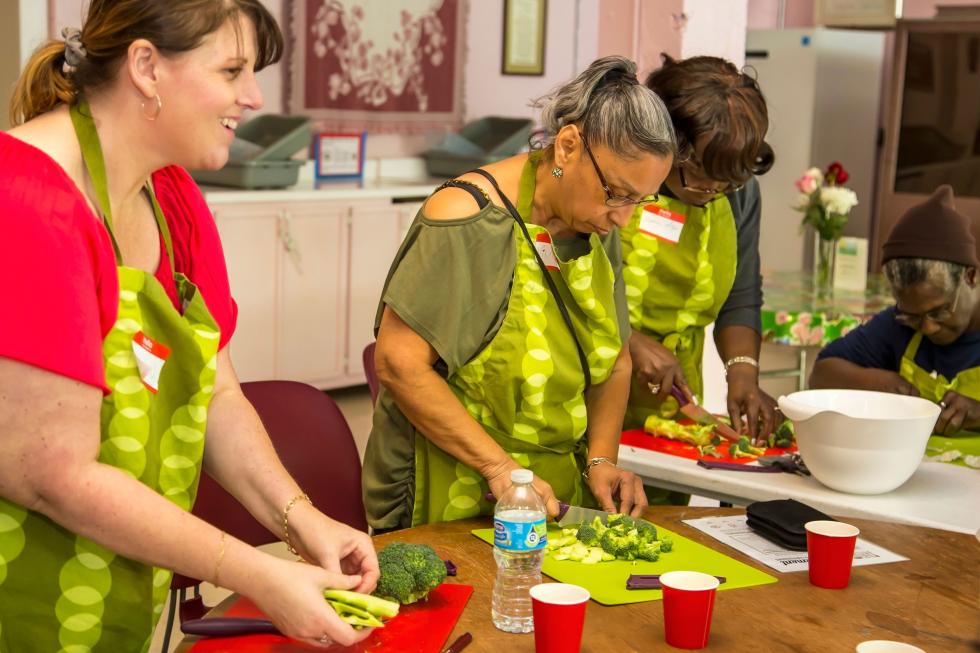 Community Kitchen partners with local nonprofits to provide 4-week nutrition and cooking education to low-income individuals and families. Wellspring has partnered with the Co-Op Community Kitchen since the program's inception in September 2012. The women's center also has a plot in the Oak Park Sol community garden and works with the Oak Park Farmers Market to receive produce donations for its breakfast program.
Along with eight other participants, Yadon began the cooking class at Wellspring on May 14. This 4-week program, sponsored by the Sacramento Natural Foods Co-op, also covers nutrition, shopping, proper food storage and kitchen safety. The program's motto is "tools for healthy eating on a budget."
According to Dawn Dunlap, the co-op's community nutrition programs manager, the classes are designed to help people "who are struggling a bit on how to get healthy food on the table, what to do with certain foods and how to incorporate basic nutrition information." The first Wellspring session covered affordability, a review of the Harvard School of Public Health's healthy eating plate (an updated version of the food pyramid) and included a cooking demonstration.
Assets like the co-op's Community Discount and CalFresh EBT, which offers additional dollars based on purchases made at local farmers markets, were helpful to Yadon, who is on a fixed income with disability pay. "I really appreciate knowing how to make things stretch," she says.
The women were taught how to prepare broccoli and sauteed chickpeas over brown rice, with per-serving cost of less than $2. As they chopped broccoli, onions and garlic, they talked about how they might modify the recipe at home.
"I really have a re-energized feeling for cooking, even for myself," says Yadon at the end of the session. "I'm looking forward to each next class. If you're armed with the right tools, then you can make better choices."