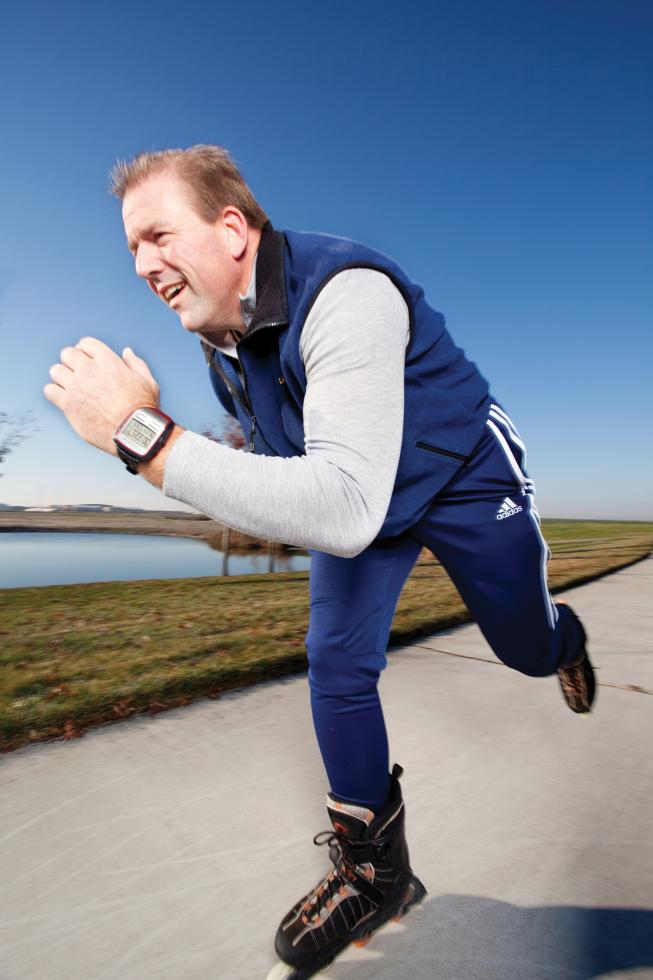 Bruce Coolidge, programming director for Capital Athletic Club in downtown Sacramento, wears a Garmin Forerunner 305.
Connectivity and data collection have changed our understanding of the world and our own routines. Applications and websites, such as Dopplr.com and Foursquare.com, are giving Web users new perspectives on experiences such as traveling and exploring their own communities.
Collecting and organizing data is reaching new heights in the personal-fitness market as well, allowing for a deeper analysis of how a person's body responds to exercise. New training tools are making it easier to set benchmarks, measure progress and focus on goals.
We're moving toward a world where the communication between devices that monitor our workouts is effortless and highly revealing, says Sacramento's Sally Edwards, a Hall of Fame triathlete. A bevy of metrics are now available to analyze performance just by measuring the rate at which our pulses rise and fall.
Edwards is now the "Head Heart" at Heart Zones USA, a venture that creates training systems structured around heart-rate analysis. She became involved with heart-monitor training while at Fleet Feet Sports, an athletic franchise she co-founded in 1982.
"We started selling awkward heart-rate monitors," Edwards says. "One was hard-wired; one was a box with a transmitter belt you wore on your chest. … They were very early editions, very expensive.
"I started to use a Polar [monitor] and fell in love with them, and they started selling more. … I wore my first heart-rate monitor in a marathon in the Olympic Trials in 1984, and I said, 'I wonder what these numbers mean,'" she says.
Edwards says her goal was to have a heart-rate monitor on every wrist, but despite writing the first book on the monitors and developing a training system for Polar, a company specializing in the new products, the technology was not widely adopted.
Now, 18 years later, one would be hard pressed to find a gym without heart-rate functions built into the equipment. "I think we're at an inflection point now," Edwards says. Heart Zones USA includes a retail store that sells equipment like monitors, power meters for cyclists to measure their work, charts that allow users to calculate their VO2 and see how their body uses oxygen during workouts. "It's a little tiny niche," she says, "but we're a leader in it."
Bruce Coolidge, the programming director for Capital Athletic Club in downtown Sacramento, wears a Garmin Forerunner 305, which debuted a few years ago. "I love my Garmin," he says. "It's been a wonderful tool for me because it challenges me to go out and get a workout in and improve each time."
The Forerunner's GPS-tracking functionality made it a quick favorite of trail runners and cyclists who wanted to have a good map of their workouts when they got home. "It's really super in terms of getting a lot of stuff that tracks and correlates data," he says. "It's got the GPS unit in there, and it also allows me to freelance on my inline skates. I can go out and go whichever direction I feel like going and see at the end how much distance I did and things like that."
The device also includes a heart-rate monitor and offers three of 12 available measurements to display on its square face. But its bulkiness makes it difficult for the small-limbed to manage. "I'm a big guy, so the blocky style of the 305 doesn't present much of an issue to me," Coolidge says. "Does it look like I'm wearing a rapper's watch? Yes, but it's not a big deal. But I've got some younger ladies [who work out at the gym], and it looks like it's going to hold their arm down."
Garmin tried to refine the look of the watch with the 405, but many complained the touch-sensitive bezel became useless when workouts got sweaty, leading many to stick with the older 305 model. Now, it seems another evolution has arrived: the Forerunner 310XT, which takes the best features of the 305 and 405 and adapts them in a waterproof package better suited for triathletes and those who participate in multiple sports. It retails for $349.
The 310XT also has a 20-hour battery life, making it ideal for anyone participating in an ultramarathon or other extended endurance contest, and a quick wrist-to-bike mount for those jumping out of the water and onto a bike.
The 310XT features a selectable vibration alert on various elements, from completing a time period, covering a set distance or entering a new heart-rate zone. "With so many of these devices now, you can set ranges where you can be proactive, and they'll give you an alarm," Coolidge says. "[Athletes will] go ahead and go through a workout that they want to do without worrying about being in the zones."
In addition to heart rate, speed, time, pedal power and distance, the 310XT also tracks elevation, grade and calories burned, and offers four display fields for the info-hungry athlete. Coolidge says customizable training programs will likely surface soon that users can tailor to their own profiles and desired events. "I can readily see websites offering you marathon training programs," Coolidge says.
Fueling the interoperability that allows the Forerunner to work with the power meter on a bike, the heart monitor around one's waist, the chip in one's shoe and a computer is a technology known as Ant. Developed by Canada's Ant Wireless, which was purchased by Garmin in December 2006, the proprietary wireless communication protocol is similar to the Bluetooth technology in phones, but works with much less power. The most recent protocol, Ant-plus, is licensed to more than 170 companies and present in devices in the health and fitness category.
According to Edwards, this is the future. "You buy a device that can talk to other devices and they communicate, not just with each other, but with different solutions and different software. [Previously] I had to have a Timex pod on my foot, a Timex belt and a Timex transmitter watch, and Timex had to write the code for all that."
For an example of the interconnectivity that Ant-plus enables, one can wake up and step on the Tanita BC-1000 Body Composition Monitor ($280, released in March 2009) to find out weight, body fat and water percentages, muscle mass, caloric intake, metabolic age and bone mass. The scale has no display. The readings are transferred directly to the 310XT and later incorporated into your computer's log, offering body and fitness data in the Garmin Connect system.
"It's effortless for me to be able to do these things," Edwards says. "I don't have to do a bunch of jury-rigging of stuff."
Edwards has seen yet-to-be-released transmitter belts that measure electrocardiogram data and can help warn against heart problems; sensors that can track things like body position or blood pressure; smart fabrics that can measure impact in contact sports; and predict diabetes based on foot patterns while walking, among other things.
"You can tape a Band-Aid right over your heart, and it will wirelessly transmit your heart rate to a proprietary device," she says. "My prediction is that sitting on the sidelines will [provide] exercise physiologists with a dashboard of data [that] helps decide whether athletes stay in the game."
For now, before complex analysis can be done at home, armchair Lance Armstrongs collecting large amounts of data on their devices still need to make sense of it all, which is where trainers and professionals like Coolidge and Edwards enter.
Will that always be necessary? Not likely.
"The quest for many of us is to get universal data," Edwards says. "We're talking about seven to eight different pieces of data. How can we bring it all together, so it's a number that has meaning?"
An unemployed engineer and an e-waste recycler walk into a bar. The engineer takes the recycler's electric bike for a spin. And, a year later, The Electric Bike Shop opens its doors in East Sacramento.
A slope-loving trio needed durable, weatherproof belts that would fit comfortably, last a long time and look good. So the self-proclaimed ski bums decided to make their own. Olympic Valley-based Arcade Belts launched three years ago from a living room and specializes in belts made specifically for winter-sport enthusiasts.