Inside a concrete warehouse a few miles past Sacramento International Airport, an 80-pound white sturgeon is hauled onto a table, sliced throat to tail and relieved of its egg-stuffed ovaries. Workers at Sterling Caviar LLC pack the meat on ice, ship the roe elsewhere and repeat the process.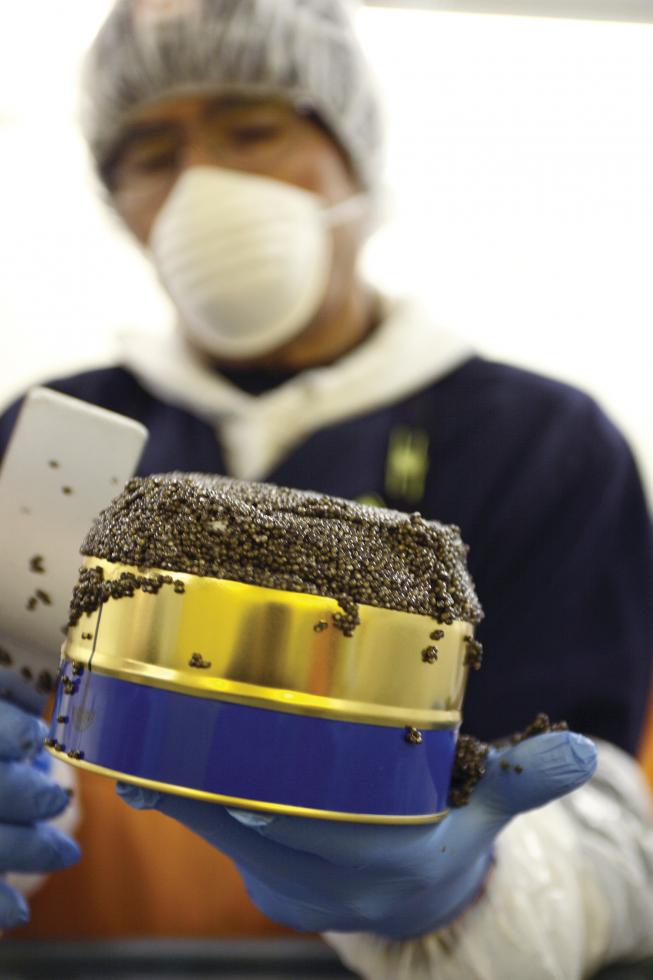 The Sacramento Valley has long been known for its cows and tomatoes and its glittery wine-producing neighbors. But in the past 10 years the valley has made a new name for itself, albeit a lesser-known one, as the epicenter of the nation's sustainable, farmed caviar. Sacramento aqua farms now produce an estimated 85 percent of all the white sturgeon caviar in the U.S.
"When we found Sterling, we realized the potential was very good," says Michel Emery, director of sales for Petrossian Inc., one of the world's premier caviar distributors. "Their farm is one of the largest and oldest in the world. In the beginning, selling American caviar was very tough. … It was tough to convince people to go with caviar from a farm, but today there is very little caviar coming out of the Caspian Sea. Most of the reputable distributors are now only selling caviar from farm-raised sturgeons, … and [Sterling is] amongst the best."
As the markets for imported Russian caviar have tightened, many green-minded grocers have swapped Caspian Sea products for sustainable domestic brands. Corti Bros., Taylor's Market and even The French Laundry have begun selling or serving Sacramento-farmed roe.
Poachers, smuggling and pollution has caused a 90 percent reduction in Caspian Sea beluga sturgeon over the past 20 years, and a number of other species are also endangered, according to Caviar Emptor, a consortium of scientists and environmental activists. As a result, the supply of legal wild caviar has plunged, and Iranian ossetra, the only wild caviar legally sold, ranges from $200 to $300 or more an ounce.
Meanwhile, Sacramento's warmish groundwater has created a constant summer for farmed sturgeon, allowing them to mature in half the time they would need in the wild. Plus, the Sacramento River is teaming with the necessary brood stock. The combination of market factors provided a local opening for a troop of entrepreneurial biologists and fish farmers who can now sell their farmed caviar for as little as $60 an ounce.
It's behind the plastic curtains at Sterling Caviar in Elverta and Tsar Nicoulai Caviar LLC in Wilton that workers in hairnets and surgical masks separate eggs from ovary and prepare the glistening sturgeon caviar for domestic and international sale.
But it's not an industry that blossomed overnight. Decades in the making, Sacramento's original caviar producer began as a sturgeon farm battling science and setbacks. Chief among the pioneers is Sterling owner Peter Struffenegger, a marine biologist out of UC Santa Barbara who has been raising all manner of fish for decades. The sturgeon entered his bevy in 1985; they didn't produce their first batch of caviar until 1994.
"In the early years, we didn't know diddly," he says. "We had a lot of biological hurdles to overcome."
The hurdles were extensive, but Struffenegger had an ally. A Soviet scientist and sturgeon expert named Serge Doroshov had defected from his homeland in the late '70s and wound up at UC Davis where he sponsored studies on sturgeon biology. The support and experience he shared allowed Sacramento's fledgling caviar industry to develop swiftly.
Today, Sterling Caviar operates three white sturgeon farms in Sacramento County, processing 30 to 60 roe-bearing females a day and 20,000 to 30,000 pounds of meat a week for sale to mostly Asian markets.
Sacramento aqua farms now produce an estimated 85 percent of all the white sturgeon caviar in the U.S.
Petrossian controls about 30 percent of the U.S. caviar market, and all of the white sturgeon caviar it sells domestically comes from Sacramento Valley farms.
"The white sturgeon (caviar) can be very similar to an ossetra," Emery says. "In extensive taste tests at the Petrossian restaurant, we noticed a lot of clients not too familiar with caviar would like the white sturgeon from California more than the more expensive caviar from the Caspian Sea because it's a milder caviar and has a very clean end."
Regionally, Sterling and Tsar Nicoulai caviar can be tricky to find, but it's served in abundance at Café Americain in Old Sacramento and Lounge ON20 in midtown Sacramento, where chef Pajo Bruich says he goes through 8 ounces to a pound of Sterling caviar a week.
"As soon as I heard about [Sterling] I started using them off and on," Bruich says. "The flavor is clean, I love the size and I think it's a perfect all-around caviar. The fact that it's done locally, for me, tops that all off. It's such a spectacular product."
So, why are so few valley chefs putting it on the menu? Phone calls to more than a dozen high-end regional restaurants yielded just three that plate caviar. Bruich says the lack of roe is likely due, in some part, to the product's high cost. Beyond that, he says, in many cases it's chefs not giving their diners enough credit.
"The Sacramento palate is sophisticated," he says. "We go through a lot of caviar, same with the foie gras and the oysters. I'm amazed. I want [my customers] to taste caviar. If they try it here, the chances of them liking it are pretty high."
Sterling offers three grades of white sturgeon caviar direct to consumer: classic ($62 per 30-gram jar), royal ($81 per 30-gram jar) and imperial ($88 per 30-gram jar). The products are also available through Petrossian and Café Americain.
In addition to its California Estate white sturgeon caviar ($90 an ounce), Tsar Nicoulai produces flavored roe from other species, including trout roe infused with vanilla or lime, and wasabi whitefish roe.
These notable roe can be served in the same manner as classic caviars — on a blini, fingerling potato or toast point and paired with Champagne or dry white wine — but more often they're served as a garnish to embellish an entree or hors d'oeuvres, according to sales director Stephanie Mann.
"When I develop a dish with a flavored roe, it's less about the roe and more about the flavor and taking your dish in a completely different direction," Bruich says. "You're not staying true to the caviar, so it's not about the roe, it's about a flavor component or an added layer to your dish."
Richard Waycott says there are no silver bullets in the remarkable double-digit growth of California almond exports to China but rather a carefully honed strategy built on introducing almonds to a "pre-existing snacking culture."
An influx of green manufacturing companies and a burgeoning renewable-energy sector is creating the critical mass Solano County needs to usher in a new era of competitive economic growth.